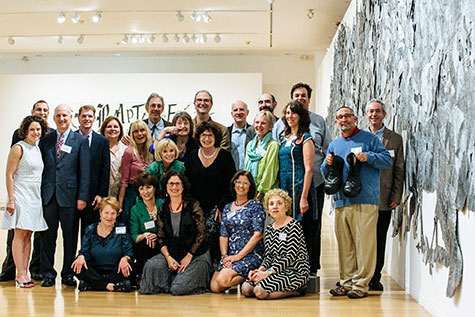 Jeffrey A. Clopeck, Esq.
Chairman, Clerk
Jeffrey Clopeck is a partner in the Boston office of Day Pitney LLP. His practice in corporate and securities law involves mergers and acquisitions, corporate finance, venture capital, and technology licensing. Jeff has represented both public and private companies in merger and other business acquisition and sale transactions, in raising capital through equity and debt financings, and in structuring various business relationships such as joint venture arrangements and license agreements. He has also represented venture capital firms in connection with their investments in portfolio companies, and counsels investment advisory firms on regulatory matters.
Cheryl Lekousi
Executive Director
Cheryl Lekousi is the teacher for Tiny Hearts Playgroup in Needham. She opened Tiny Hearts Playgroup in 1984 after being an aid, teacher and then head teacher in the Needham YMCA preschool for six years. With a background in special needs and development, Cheryl has an inclusive childcare program. Cheryl started training with Hearts & Noses Hospital clown Troupe in 1999. Her clown, Tic Toc, regularly makes visits to three Boston area hospitals and many events for ill and disabled children. She became Executive Director in 2007 and Artistic Director in 2008.
Kenny Raskin
Artistic Director
For over forty years, Kenny Raskin has been a leading physical comedian both in the United States and Europe.  He performed as the lead clown with Cirque du Soleil, and originated the role of Lefou in the Broadway production of Disney's Beauty and the Beast.  Kenny has taught clowning and physical comedy as an adjunct faculty member in the theater departments of Boston University, Emerson College, Emory University and Ringling Brothers Clown College.  For eight years he was a member of the Big Apple Clown Care Troupe.  He is delighted to lead the artistic component of Hearts & Noses.
Michael Agus, MD
Medical Director
Michael Agus is Division Chief of Medicine Critical Care at Boston Children's Hospital, pediatric intensivist and endocrinologist, recipient of NIH grants, a teacher and a researcher. He is an Associate Professor of Pediatrics at Harvard Medical School. He has served on the board of Hearts & Noses Hospital Clown Troupe since 1999, serving as Medical Director. He was a co-author of the Troupe's The Art & Joy of Hospital Clowning, published in 2005. He has also served as past leader of the Newton Center Minyan, President of the Board of Trustees of Kehillah Schechter Academy, and on the Board of Camp Ramah New England. He traveled to Haiti shortly after the earthquake in 2010 under the aegis of Partners in Health, and continues to serve on a specialty medical team as part of the US National Disaster Medical System. He is married to Elisa and has three children, one of whom was a direct and grateful beneficiary of the services provided by Hearts & Noses.
Alan Huberman, CPA
Treasurer
Alan Huberman is a partner with the accounting firm of Blum, Shapiro & Company, P.C.,the largest regional accounting, tax and business consulting firm based in New England. Alan primarily advises privately held businesses, non-profit organizations and high net-worth individuals and their families on business planning and operations as well as personal tax planning. Alan has experience with corporate and individual taxation, trusts and estates, probate accounting and administration, business planning and consulting, tax and financial planning, tax representation and defense matters, litigation support services and tax planning in contemplation of divorce. Before joining the Hearts & Noses Hospital Clown Troupe board in 2004, where he focuses on establishing and maintaining the Troupe's budget as well as assisting with the financial reporting of the Troupe, Alan had the privilege of visiting Franciscan Hospital for Children to witness first-hand the clowns in action.
Reni Gertner, MPH
Reni Gertner, MPH, is a Strategic Communications and Marketing Consultant who works with local and national clients on marketing strategy design and implementation, content development and online and social media branding. Prior to starting her own business, Reni worked as an editor in the medical and legal publishing industries for 15 years. She graduated from Brown University with a B.A. in Biomedical Ethics, and holds a Master's in Public Health with a focus in Epidemiology from Boston University.
Albert Hyman, MD
Al Hyman, MD is a board certified Child and Adult Psychiatrist who trained in psychiatry at Harvard Longwood Psychiatry Residency Program, followed by a fellowship in Child and Adolescent Psychiatry at Cambridge Hospital/Harvard Medical School. Prior to medical school, Dr. Hyman earned a Master's in Architecture. He is currently in private practice in Brookline, and his practice includes the evaluation and treatment of children, adolescents, and adults across a wide range of psychiatric disorders. Dr. Hyman also holds a part-time faculty position in psychiatry at the Cambridge Health Alliance/Harvard Medical School, supervising psychiatry interns, residents, and fellows.
Dmitri Rabin
Dmitri Rabin is a strategist at Loomis, Sayles & Co, leading the firm's investment activities in the mortgage credit markets. Earlier in his career, he was a Project Leader at the Boston Consulting Group, where a significant portion of his work focused on Healthcare. He received his undergraduate degree from Amherst College, and his MBA from MIT Sloan. Before joining the Hearts & Noses Hospital Clown Troupe board, where he focuses on the strategic plan and financial reporting of the Troupe, Dmitri had the privilege to go with the clowns on a visit to Franciscans Hospital. He remains in awe of the work the clowns do and views his mission on the board as ensuring the clowns have everything they need to continue their amazing work.
Eric Weil, MD
Eric M. Weil has been a Practicing General Internist at the MGH Revere Healthcare Center since 1999. He is also the Associate Chief of Clinical Affairs for the Division of General Internal Medicine at the Hospital, responsible for clinical oversight of the institution's Primary Care network of 20 practices and 200 physicians. In that capacity, Dr. Weil leads institutional initiatives to improve the quality of the healthcare delivered to the patients who seek care within the MGH system.
Lyn Hadden
Clown Representative
Lyn Hadden (Dottie) has been a member of Hearts & Noses Hospital Clown Troupe since 2002. She was a trainer for the troupe for 5 years. She was employed at the Needham High School Media Center, and was a member of the Board of Directors of the Needham Education Association and the Needham Community Theater. She now clowns not only for the children in the hospitals, but for her grandchildren as well.
Bonnie Greenberg, MS
Clown Representative
Bonnie Greenberg, aka Gabby, is a speech/language pathologist, professional storyteller, and avid photographer. She joined the Troupe in 2014 and can frequently be found at Floating Hospital for Children at Tufts Medical Center, Spaulding Rehabilitation Hospital and Franciscan Hospital for Children tickling children's imagination. She also participates in many "EVENTS" to which our Troupe is invited.